[dss_post_title _builder_version="4.3.2″][/dss_post_title]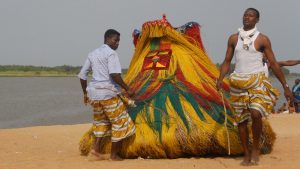 Benin is a small country located between the Atlantic ocean, Togo, Nigeria, Niger and Burkina Faso. Its water supply comes from the the river Mono to the west, the Oueme to the east and the Pendjari and Niger to the north. The country has rich and varied landscapes, beaches of fine sand, lakes, grand plains, plateaus, hills, mountain ranges and savannah.
The history of Benin consists of internal migrations followed by the impact of colonisation and the slave trade. Now independent and democratic, Benin confronts the daily reality of globalization.
Benin enjoys religious stability and the typical Beninois is a believer who reveres his God. Just as the catholic religion has its saints, the traditional voodoo has its protective fetiches, venerated during public and private ceremonies. The variety of fetishes provide for scenes of popular celebration, with singing and dancing to the sound of tom toms. You may or may not believe in voodoo, but in any case you can join in the fun with dances like the Sakpata and Hébioso, from the calm and princely Nensuxwé to demonstrations of Zangbéto and the "provocations" of the Egunguns.
Finally, Benin is a new democracy composed of a tapestry of regional or ethnic groupings. Each region has different forms of social and political organisation:
– Centralised (Adja)
– Anarchic (Otan-maris)
– Village chiefs (Dassa)
– Kingdom (Dan Homé, Nikki)
These regional organisations are rooted in tradition, and the respect for human nature.
Further reading: http://en.wikipedia.org/wiki/Benin